Randy Ramos
Our family and community lost an incredible leader and mentor.  Randy Martin Ramos passed away suddenly on Friday, December 18, 2020. 
Randy, son of Abel "Ray" Ramos and Shirley Ramos, was born in Ipswich, England at Bentwaters Air Force Base.  He was the youngest of three children, including his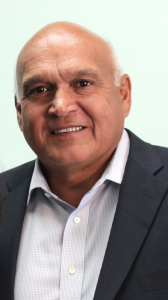 brothers David and Michael Ramos.  His family moved from England to Germany, then to Bunker Hill, Indiana where he grew up and graduated from Maconaquah High School.  There, he became a lifelong learner, developing an entrepreneurial passion for information technology (IT), education, and technical training. 
Randy and his family moved to Pensacola in 1986 where Randy continued his IT path as a civil servant with the Department of Navy.  In 1993, Randy followed his dream of developing an innovative IT training corporation, and Global Business Solutions, Inc. (GBSI) was born.  For over 25 years, he presided as Founder, President, and CEO, serving the Department of Defense, local and state governments, academia, and his community.
Randy had a heart for helping others. He, along with his friend and mentor Terrell Davis, created the Global Business Solutions Institute - to "share the love and compassion of Jesus Christ to enhance the lives of the needy and alleviate poverty around the globe."  He loved mission trips. It was not unusual to find Randy playing the tambourine at a vacation bible school in Mexico or building a greenhouse for a more sustainable food supply in Guatemala. The world was his community.
As a visionary, influencer, and leader, Randy devoted his life to loving and mentoring his family and impacting the community. He enjoyed time with his family cooking, boating, skiing and traveling. 
Randy was preceded in death by his father.  He shared his life with his wife Terri for 36 years, always exploring and uncovering the wonders of the world and beyond with excitement and enthusiasm.  He was a loving, devoted father of two children, Erin Luttrell (Justin) and April Kennedy (Casey) and a proud grandfather of three grandchildren, Chloe (11), Ella (7) and Cooper Martin (3). 
His legacy will live on in the hearts and minds of those he raised, mentored and made laugh throughout his time on this earth.  In lieu of flowers, please consider donating to the Randy Ramos Memorial Scholarship Fund.  A celebration is planned for the Spring, when we can gather, hug, and truly honor Randy's life and impact. The family wishes to thank Melvin Stinson and the entire GBSI family (past and present) for their love and support. We will continue to "think bigger" and carry forward his vision for opportunity and growth for family and community.
To Donate to the Randy Ramos Scholarship Fund, please use the Remembering Randy button below: