Hernando Arrives in Budapest!
God's direction for Hernando is a ministry of discipleship.  As the pandemic shuffled and postponed international travel, Hernando never wavered from God's path to relocate to Eastern Europe.  Here is the update we received from Hernando on September 26, 2020:
"Well, friends, we made it to Hungary— just under the wire! The Hungarian government announced on August 29th that it was closing the border to ALL foreigners on September 1st. Thanks to God's providence, we felt led in July to book our tickets for the end of August, rather than the September date we had been thinking about. There was a three hour wait for immigration in Budapest, but we cleared it at 10:40 pm on the 31st. 
 We did have a little trouble with our departure from Atlanta. When we checked in, the counter ticket agent surprised us by saying that, due to Covid,  the Amsterdam airport police would not allow us to transit through without a letter from the Hungarian government stating that they would accept us. After two hours of calling the Hungarian embassy and the consulate, as well as airport police in Amsterdam, Frankfurt and Paris, we were able to pay extra for tickets through London (where we did not have to go through immigration), but that meant an extra twelve hours spent at the Atlanta airport. Other than this little hiccup, however, it was a good trip; we arrived safely—with all of our luggage!
 Finally, after 34 hours of wearing masks, we arrived at the Airbnb apartment that we had booked for a month and began a strict 14 days of quarantine. Thankfully, the Methodist superintendent of Hungary and his sister helped us by delivering groceries and showing us how to order meals for delivery on an Hungarian website. Even with Google Translate, some of the meals came as quite a surprise when we opened the containers. One meal had "wild buns" and another had "emperor's crumbles"!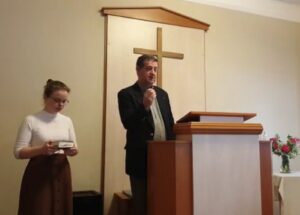 Quarantine was a good time for us to:
—Rest from the move
—Study Hungarian (We also plan to take intensive classes starting in October—if Covid allows the class to meet.)
—Look online for apartment rentals (We found a nice place and will be moving in on 9/30.)
—Put the finishing touches on the Hungarian translation of our curriculum (The local translator whom we hired did a great job. As we eventually begin to move out and disciple people in the countries surrounding Hungary, we will have our materials translated into those languages as well.)
 Since leaving quarantine, we have been focusing on developing relationships within the Protestant Christian community here in Budapest and also generating interest in discipleship. So far, we have:
—Begun to disciple a member of a ministry with whom we plan to work in close partnership. Next week, we will be covering sessions 5 and 6 of our first phase. 
—Preached at a Methodist church in Szeged, the third largest city in Hungary, about discipleship 
—Reached an agreement  to begin the intensive discipleship process with the International Baptist Church of Budapest. We are still trying to figure out the logistics, due to restrictions related to Covid 19. 
 On September 29th, we will be meeting with a group of students at a Christian high school Here in Budapest to discuss discipleship and see if they might be interested in our program. 
 We are full of joy for the opportunity that the Lord has opened for us to be missionaries in Eastern Europe. This is an exciting new chapter in our lives! 
 Right now our attention is centered on building relationships and praying. We know that the harvest is plentiful, but the workers are few. "Therefore pray the Lord of the harvest to send out laborers into His harvest." Matthew 9:38."