Hernando and Katherine, dedicated to discipleship
It is not enough to simply know the truth, the truth has to be experienced...Jesus said "I tell you the truth, anyone who believes in me will do the same works I have done, and even greater works, because I am going to be with the Father" (John 14:12 NLT)
Hernando and Katherine's ministry objective is to help awaken believers in Jesus Christ to experience the abundant life that Jesus came to give.

Hernando met Jesus late in life and knows that discipleship is a life-changing process, a process that leads followers of Jesus to exchange their self-focused, self-directed, self-propelled life for the life of Christ.
Many have heard or been taught that discipling is a process of learning and then going and doing what has been learned.  Although this is true to some exent, the most important aspect of discipleship is the desire to become more and more like Jesus, by dying to self and being led by the Holy Spirit.  Discipleship is about the life transformation that comes from recieving the abundant life that Jesus came to give us.
Hernando began his discipleship ministry in 2014 and has been active traini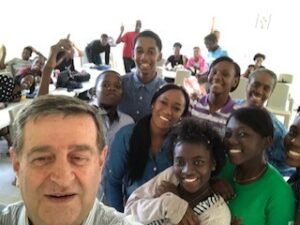 ng believers in Cuba, India, Costa Rica, Doninican Republic, El Salvador, Nepal, and Hungary. Hernando and Katherine will become full-time missionaries in June of 2020 and will be based in Hungary which will allow them to serve several countries in Eastern Europe.
The Institute invites you to partner with Hernando and Katherine in thier ministry of discipleship to Hungary and Eastern Europe.  Like all of our missionary partners and country leadership, 100% of all donations given to Hernando and Katherine will be issued to them for thier ministry, with Global Business Solutions Institute providing the cost of processing.
If you would like to donate to the ministry of Hernando and Katherine, you may use the donate button below or set up a recurring monthly donation.
For more information about the Hernando and Katherine's ministry of discipleship to go to https://www.receivinghislife.org/